Injection Molding

Factory
Shenzhen
Injection Mold Shop is located in the Shenzhen area, which covers about 5000 square meters and a total workforce of 120. We have 8 designers,4 project engineers, who have rich experience in their field and worked in the mold industry for many years. We already got ISO 9001:2015 certificates many years ago.

We have rich experience in precise mold making and made remarkable achievements in 2-shot, tooling, rapid tooling, plastic part design, prototyping, 3D printing, through production. High-quality precise molds derived from strict management, skilled employees & advanced equipment.

HST is a global plastics injection molding company and manufacturer to some of the world's leading manufacturers in the packaging, consumer appliances, business machines, home automation, medical and automotive sectors.
Our Molding Workshop
HST Mold Injection Molding Shop is equipped with a list of injection molding presses with renowned names like Demag, Sumitomo, Haitian, ranging from 20 tons to 700 tons, with the support of a professional technical team.
Injection Molding Machine:
20T-90T:4 pcs
120T-250T: 11pcs
320T-450T: 6pcs
700T: 1pcs
Main QC Procedures for Mold:
1. Incoming Inspection:
Includes steel hardness and full inspections on steels, mold base, and components.

2. In-Process Inspection:
Electrode inspection, cavity, core& inserts inspection, pre-assembly inspection, mold trial report , and samples inspection.

3. Final Inspection Control:
Includes pre-shipment inspections on mold and packing that includes, steel certificates, 2D and 3D mold design. The list of quality documents that are generated includes Mold Base Inspection Report, Steel Inspection Report, Electrode Inspection Report, Heat Treatment Report, IQC Report, IPQC Report, Sample Inspection Report, and Pre Shipment QA Report.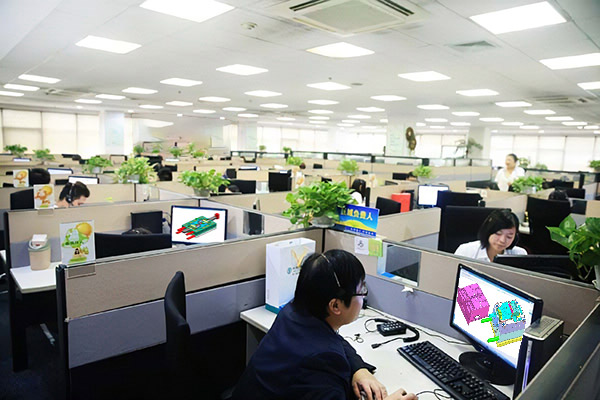 Office & Engineering Dept.
Our plastic injection department has 8 designers, 4 project engineers, who have rich experience in their field and worked in the mold industry for many years.
Hamsantool is a Leading Injection Mold Shop in China
We are a professional injection mold shop with over ten years of experience. We have the latest injection molding machines and equipment to guarantee high-quality output. Our skilled engineers can provide you with customized suggestions for your next project. We offer a wide range of products and services, including injection molding, stamping, die casting, final assembly, and product testing. We are always committed to providing the highest quality service possible.
Custom Injection Molds for Your Specific Needs
We are experts in custom injection molding, so we can help you create products that fit your specific needs. Our team of skilled engineers can design a custom injection mold with the exact specifications you need. We also have a wide range of available materials and manufacturing processes, so we can deliver tailor-made solutions for you. In addition to high-quality products, we also offer full service and support. We will help you through manufacturing, shipping, and customer after-sales services. Our engineers can provide design assistance as well so they can maximize the performance of your product while keeping it within budget. The injection molds we supply are made of high-quality materials, so they can withstand extreme conditions. We also keep our products at the standard temperature during all processes to ensure your product is always fresh, clean, and safe from contaminants. Our engineers make sure that everything goes as necessary on production day for you to enjoy a smooth process uninterrupted by any issues.

Quality Parts and Fast Turnaround Times
Our team of engineers takes pride in providing high-quality parts and fast turnaround times. We use state-of-the-art manufacturing processes and equipment to ensure your products are up to snuff quickly. Our customers can expect products that are free of defects, ready for shipping within a quick timeframe, and backed by our full-service after-sales program. We also offer custom options so you can design the perfect product for your specific needs.